The children in the 'Year 4 & 5 Key Worker Bubble' have been busy researching the lives of saints and then made puppets of them using different materials.
They listened to  Jonah and the Whale Bible story and made decision makers based on our Christian values.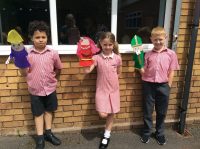 Well done children they look great!