After School Clubs
At St. Chad's we have a wide range of extra-curricular clubs available to children from Year 1 to Year 6. Some of the clubs are provided by outside coaches and others are provided by members of staff.
Each term the children receive a letter about the clubs on offer. A variety of different clubs are offered each term and include things like: Choir, Recorder, Football, Computer Buddies, Judo, High 5 Netball, Gymnastics, Athletics, Cross Country, Art and Craft, Street Dance, etc.
Some of the more unusual clubs which are popular are Archery, Fencing, Laser Tag and Bubble Sport.
The clubs are always very popular with the children and enjoyed by all.
Art and Craft Club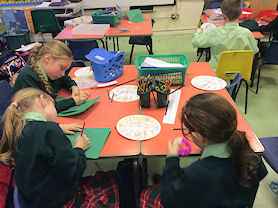 Art and Craft Club.
This is a very popular club that takes place before Christmas and Easter. The children sew, paint, cut and stick to make all sorts of lovely things.
Cross Country Club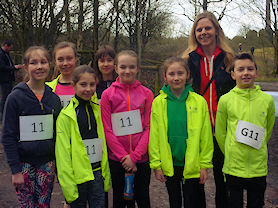 Cross Country athletes.
Cross Country club prepares the children to enter the Cross Country. Complete beginners are welcome to join as they begin by running around the field. They are taught how to improve their running technique.
Some of the children from this club will represent the school at local cross-country competition at Baggeridge. There are over 200 children who compete. In 2014 St. Chad's pupils came first in the girls' race and sixth in the boys' race. They went to represent Dudley in the district competition. All the children came in the top 100.
Football Clubs
We have two football clubs at St. Chad's, both run by Premier Sports.
Years 1 to 3 is very popular with both boys and girls. They practise their football skills and play small matches.
The older children from Years 4 to 6. Both boys and girls are welcome to join this club with a view to playing competitions against other schools.
Gymnastics Club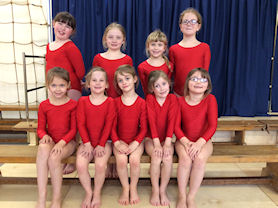 Some of our young gymnasts.
Gymnastic club is great fun. The children learn various gymnastic movements, finally putting them together into a sequence. A team chosen from Years 2 and 3 then take part in the Dudley Schools Primary Gymnastics Competition.
Judo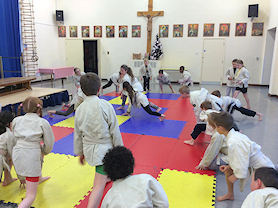 Enthusiastic Judo Club participants.
A coach from Steward Sports Academy runs the Judo Club.
Children are provided with judo jackets so they really look the part.
This is a new club, which was so popular with Years 3 and 4 that it will be offered to Years 5 and 6 next.
Netball Club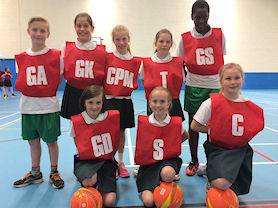 High Five Netball team.
One of our High 5 teams won the Dudley College High Five Netball tournament in 2014. Both boys and girls can play High Five.
Six children attended the South Staffordshire Netball trials in May 2014. Two girls were successful and will be playing for South Staffordshire.
Recorder Club
Mrs Greaney runs the recorder club. Beginners are welcome and this small group learn how to play the recorder. They perform for other children in school or during assemblies.